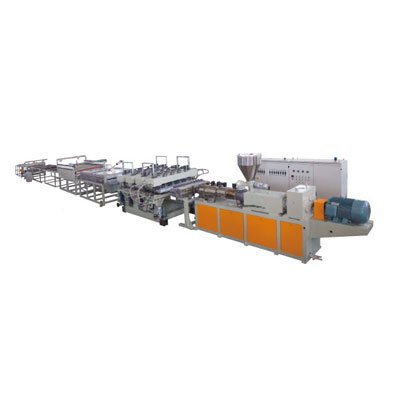 Our extensive varieties of products are exceptionally acclaimed by the immense customer base we have. Our excellence in business empowers our clients stay in tune with innovative progressions and better quality. We are the major Supplier of  PVC foam board machine as we have created an ultramodern system setup to guarantee convenient achievement of whole processing procedure; beside this we have furnished our framework with most recent engineering and innovation. To satisfy our dedication of convenient conveyance, we have made this setup joined with all the transportation modes. Sponsored by a solid base, we furnish our customers with our faultless reach. Our assembling unit is outfitted with the most recent machines, which permit us to generate our extent according to the business standards. We are moved an apt group of experts, who strive hard to meet the customer's prerequisites proficiently way. Since our association is customer situated and vast Supplier of  PVC foam board machine , we additionally offer customization services or our plastic granules according to the prerequisites of our customers.
To meet the specific requirements of the application areas, the array also includes PVC Foam Sheets Machines. These board machines and sheets machines are available in various specifications and dimensions, complying with the international standards. The buyers are also eased with the availability of the PVC foam Board Machines and sheets machines at market leading prices and within the stipulated time frame.
Characteristics of PVC Foam Board, manufactured by this Machine
PVC foam board machine features sound separation, absorption, temperature-keeping, heat separation, etc.
Incombustible material, thus safe for use.
Products possess properties such as moisture proof, water resistance, mildew proof; good vibration resistant effect.
Forever luster, weathering proof, not easy to be ageing, are a few countable properties.
Light, high storage & convenient in transport, and construction.
Can be operated with normal tools, used for wooden material.
Sawing, drilling, nail, bonding and planning, can be conducted; alike wooden material.
Well-suited for thermal bending, thermal shaping and fold processing.
Easily welded; and can be bonded with other PVC material.
Smooth surface, it can be printed.